WFR was earned the world admitted award.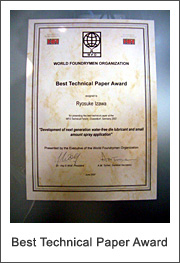 The world's leading international foundry trade show at Dusseldorf, Germany rang down the curtain on June 16, 2007.
We wish to express our gratitude for a lot of customers coming from all over the world.

During GIFA 2007, Mr. Ryusuke Izawa from Ryobi Ltd. participated at WFO Technical Forum to present about WFR, "Development of next generation water free die lubricant and small amount spray application", and he was awarded the best technical paper award.

His paper had been chosen by the WFO selection committee out of 150 articles. This is a first time for any other Japanese company to receive the best technical paper award in previous history.

WFR series has received 2 awards as "Onoda-prize" from Japan Die casting association and "Fine environmental prize" from The Hitachi Environment Foundation in Japan. WFR became a technically admitted innovation in the world with this 3rd authoritative prize.